8 Reasons to Love Balsam Lake Living
1. It's a haven for boaters
Balsam Lake appeals to serious boaters since it is part of the Trent-Severn Waterw
ay, a canal route that extends 386 kilometres (240 miles) across Ontario. The Trent-Severn Waterway is a chain of lakes and rivers linked by more than 40 locks and about 50 kilometres (33 miles) of excavated channels.
Boaters can travel from one lake to another on this interconnected system, one of Canada's most beautiful waterways. As it is a link in this navigation route, Balsam Lake offers boaters access to other lakes and adventures by water. Indeed, boating is an especially fun way to explore what the Kawarthas offers.  (Learn more about the Balsam Lake cottage trends)
As the Trent-Severn Waterway is a tourist destination and venue for some of the best recreational boating in North America, water is a major highway in and out of Balsam Lake, especially in summer.
In general, the size of the lake dictates the kinds of activities that can take place there. As Balsam Lake is a large body of water you can do almost any activity, including travel in a large boat.
The lake also provides excellent mooring for houseboats. Boaters can also anchor offshore at one of the many sand dune inlets and swim in warm, waist-deep water.
2. It offers cottagers sand beaches, private bays, clean, clear water, and stable water levels
Balsam Lake boasts lovely waterfront, clear, clean water, sand beaches and dunes along with large, private bays.
As it is the highest point on the Trent-Severn Waterway, Balsam Lake is known as the cleanest lake in the Kawarthas. (From here, the waterway descends to Georgian Bay in the northwest and to Lake Ontario in the southeast.)
Another advantage of being the highest point on the waterway is Balsam Lake hasn't been plagued with invasive exotic species such as zebra mussels, which have devastated other lakes.
A third benefit is Balsam Lake is not one of the feeder lakes (lakes that form part of the watershed that feeds the Trent-Severn Waterway, a controlled system). Feeder lakes can witness dramatic changes in their water levels throughout the year. The lakes in the Kawarthas that feed the Trent-Severn Waterway are controlled by a series of dams and some have hydro-generating capacity.
When the levels of the Trent-Severn Waterway fall too low for safe navigation, water will be released through the system – from a stop-log dam or a power station – to compensate, which leads to a drop in water levels in the upstream lakes. As Balsam Lake is the highest point on the waterway, it enjoys stable water levels.
In 2013, the Kawartha Lake Stewards Association measured phosphorus levels in Balsam Lake along with other lakes in the area. Given the test results, the association classified Balsam Lake as a low-phosphorus lake. (Phosphorus levels were stable from May to September and hovered around 10 parts per billion.)
Last year, the Kawartha Lake Stewards Association volunteers also measured water clarity in a number of lakes including Balsam Lake using the Secchi disk method. As a general rule, low-phosphorus lakes will have higher clarity and greater Secchi measurements. (A larger Secchi measurement indicates clearer water.)
The average Secchi reading in early August 2013 of six sites on Balsam Lake and Upper Stoney Lake (the latter is also a low-phosphorus lake), was 5.2 m.
As in previous years, the Kawartha Lake Stewards Association also found E.coli counts in 2013 were low on Balsam Lake. (The association tested for E.coli at 12 sites on Balsam Lake. Each site was tested the same day on six specific dates from early July to early September 2013.)
3. It's a "name lake" with a grand character
Balsam Lake has the cachet of a "name lake." Indeed, Balsam Lake is to the Kawarthas what Lake Muskoka, Lake Rosseau, and Lake Joseph are to Muskoka.
The lake also has a lovely expanse to it and a grand character evocative of old Ontario. And tall, stately trees line its shores.
4. The drive from Toronto is painless
Balsam Lake cottagers are delighted travel to their weekend getaway doesn't involve a laborious trip from Toronto; in fact, the lake is an easy escape from the city as it rests on the western side of the City of Kawartha Lakes. The drive takes about two hours.
There are also various ways to get to Balsam Lake by car. If the highway you are travelling on is congested, just take another route to arrive at your cottage in good time.
5. High-quality services and amenities are a stone's throw away
The region offers access to high-quality services along with an outstanding hospital – the Ross Memorial Hospital in Lindsay.  That's partly why more people are choosing to retire to Balsam Lake.
6. The lake has a friendly, social cottage community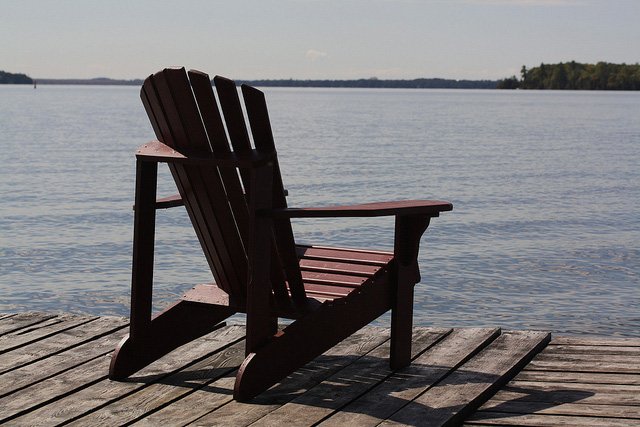 Once you've settled into your waterfront getaway on Balsam Lake, it won't be long before you get to know other cottagers on the lake. They are very friendly. As well, they can fill you in on the local history and offer colourful, off-the-cuff details about the lake.
And some of these families have summered on Balsam Lake for generations.  In fact, the lake is home to a couple of exquisite family compounds.
There are also several 'catch and release' bass tournaments on the lake throughout the summer. These tournaments are very social in nature and draw visitors.
Since boating is one of the most popular summer activities, the Balsam Lake Sailing Club is an especially active group. Club members enjoy biweekly races, the junior sailing program, and parties.
Races are usually held in the most open area of the lake, west of Grand Island and just north of West Bay. The Balsam Lake Sailing Club doesn't have its own premises; social events are held at the cottages of club members.
7. A strong and efficient network of lake and road associations
The Balsam Lake Association, which was created in 1970, is one of the largest cottagers' associations in the Kawarthas. Membership is open to the lake's road associations and its seasonal and permanent residents.
The association represents member interests by working to safeguard the value of their properties and their quality of life as cottagers on this lake. This is especially important given a vacation property is a significant investment.
The association also conducts and pays for its own water-quality testing.
The lake's active road associations allow the various groups to focus on issues specific to their road or their area of the lake.
8. The lake boasts an intriguing history
Balsam Lake has a rich history. For hundreds of years, the lake was a major aboriginal settlement and travel route for indigenous people.
Samuel de Champlain wrote in his diary about his travels through Balsam Lake and the surrounding area with native guides in 1615.
In the 1800s, the lake was crucial for logging activity in the region. Although it was a major transportation route, the lake was also a desirable getaway for Victorian cottagers and vacationers.
To build the Kirkfield lift lock in 1907, Balsam Lake was raised eight feet as this was an easier prospect than excavating the rock in Kirkfield.
Source: kawarthawaterfront.com, June 6 2014